The Ins and Outs of Group Health Insurance
[ad_1]


Bio
I have been in the Financial Services industry for 27 years. I started in the banking sector in 1991 for Canada Trust in Hamilton later to begin an Insurance career as an agent with Prudential of America in 1995. The majority of my selling career was spent in Hamilton Ontario at one of Canada's leading brokerages, Dan Lawrie Insurance Brokers Ltd. where I spent 11 years building my practice. I grew a client base to over 2500 as well as partnered to service 150 employer group benefit plans, Association plans and co-managed a Pension/Investment book of $100 million in assets.
I went on to work as a  Life Member of MDRT and two time Court of the Table producer along with Top 10 status for 7 years with Unity Life before joining the company in 2007. After selling my book of business, I joined the corporate side serving as Director of Sales for Southwestern Ontario for Unity Life/Foresters 2007 to 2012 before becoming AVP Ontario Sales. In 2014, I worked with National Accounts to oversee growth as well as Business Development in 2017.
In 2018 I took on the role as Senior VP at a growing benefits company (SAFG Benefits Solutions Inc.) to grow the brand and market our unique value proposition to brokers and employers using the latest technology platform and best of class services including Mental Health, Meschino Wellness, EQ Care virtual doctors and Pharmacogenetics.
What is most important to me is my family. I have been married 26 years to Emilia and we have two boys Michael and Matthew. Michael is a musician (24) and Matthew just returned from a successful mission for the church in Anaheim California and will begin school to start a career (21). I am an avid fitness and nutrition fan and always learning from good books! Service to my community is also important as I live my faith.
What is Group Health Insurance?
Group Health Insurance, often referred to as "group benefits", is an insurance product that provides coverage for Dental and Medical costs such as prescription drugs, paramedical expenses from massage therapy, chiropractic services, physiotherapy, naturopath, and many other covered services.
Commonly offered through employer groups as a way to attract and retain people, these plans can vary greatly in design and the amount of cost sharing with the employee.
These plans can also be purchased individually to protect against unforeseen medical and dental expenses.
What to Look Out For
If you are a member of your company employer benefits plan, some key items to pay attention to include:
Be aware of your plans "renewal date" so you know when your benefit maximums "reload". For example, if my plan renewal was August then my plan provisions are August to August. Most believe it is calendar year so if they had maximum coverage of $500 for massage therapy and forgot about the renewal month, this could lead to mismanaged planned visits and be deducted out of pocket until the plan renews and resets/reloads maximums.
Know and understand your Dental coverage. Many employees may have the impression they are covered for crowns, caps, root canals, etc, when these are referred to as major restorative services. Your plan may not cover such expenses.
What are your financial responsibilities in correlation to your plan? Know what, if any, deductibles you might have in your plan. For instance, your prescription drug coverage may require you to pay a one time $50 deductible per year as well your coverage amount can vary from 50 to 100% coverage depending on the plan design.
For individuals considering purchasing a plan, I would consider the following:
The pricing is key to decision making so review what is covered and maximums as you may want to consider a Health Spending Account if you are a sole proprietor. For those that will not be eligible to deduct as an expense, the costs vs the possible claim payout will be an important exercise.
Insiders tips
From my perspective, a Group Health Insurance plan is really about understanding your needs and if you are an employer, it is about understanding the needs of your employees. This needs-based approach will ensure you consider the right plan with the right provisions at the best price.
My regular tip has always been to not toss the benefits booklet in a drawer but rather take the time to be fully aware of what coverages and services you have available. Too many times it is often when something happens that we go searching for answers or I have found many who paid for services without realizing they had coverage through their plan.
Finally, work with your practitioners. I always gave my dentist a copy of my dental coverage page so they can properly guide me on my coverages. The same is true for paramedical services where I would tell the Registered Massage Therapist how much my plan maximum was and the benefit renewal month, so they are able to assist in ensuring I stay within the guidelines.
Illustration of what plan costs* could look like: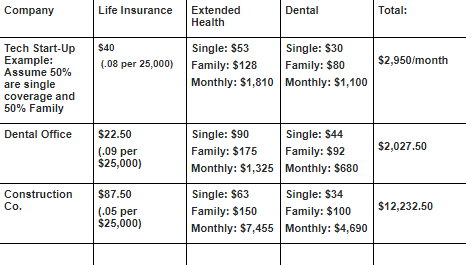 *rates: monthly billing
Let's look at a few possible scenarios:
Tech start-up company with 20 employees
Dental Office with 10 employees
Construction Company with 70 employees
Sample Plan Design:
Basic Life Insurance: Flat $25,000 Dependent Life Coverage $5,000 and Children $2,500
Extended Health Coverage
Prescription Drugs: 80% covered
Also included: Vision Care, Paramedical practitioners ($500 per practitioner) such as Chiropractor, Massage therapy, Acupuncturist, Osteopath, Naturopath, Physiotherapy, Podiatrist/Chiropodist, Psychologist etc.
Dental Coverage: 80% covered
Includes: $1000/per year coverage
Minor Restorative: Teeth cleanings, scalings, fillings, x rays, pit and fissure sealants etc
Notes: Long Term Disability can be included based on the salaries of employees.
Variables that lead to rates: Plan design, coverage amounts, deductibles, family or single coverage, age, gender and occupation all have impact on rates.
[ad_2]

Source link
Multiple trucking violations by Humboldt semi driver noted in government report Canadian Underwriter
MELFORT, Sask. – A Saskatchewan government report says the driver of a semi-truck should not have been on the road the day he flew through a stop sign and caused a crash with the Humboldt Broncos team bus.
The report filed during the sentencing hearing for Jaskirat Singh Sidhu notes 51 violations of federal trucking regulations on drivers' hours and 19 violations of Saskatchewan trip inspection rules.
It includes the 11 days prior to the April 6, 2018, crash at a rural intersection that killed 16 people and injured 13 others.
"If Jaskirat Singh Sidhu had been stopped and inspected on April 6, 2018, prior to the incident he would have been placed under a 72-hour out-of-service declaration … preventing him from operating a commercial vehicle," says the report.
The document is signed by two senior Saskatchewan government officials and is included in the RCMP's forensic collision reconstruction report.
It expresses concerns about the distances Singh was driving as well as the amount of time he took off to rest.
The report notes that if Singh had accurately documented his time at work on April 1 it 'would have resulted in the driver being in violation of the maximum on-duty time of 14 hours for the day."
The report says questions remain about what happened the day of the crash.
"We have strong concerns regarding the timelines of Jaskirat Singh Sidhu's day on April 6, 2018, as there are unanswered questions as a result of the incomplete log on that day," it says.
"The identified mileage and distances required to travel to the locations identified in the log and known locations also cause concerns."
Sidhu had been driving for about a month before the crash occurred.
The owner of the Calgary-based trucking company, Sukhmander Singh of Adesh Deol Trucking, faces eight charges relating to non-compliance with federal and provincial safety regulations in the months before the crash.
They include seven charges under the federal Motor Vehicle Transport Act: two counts of failing to maintain logs for drivers' hours, three counts of failing to monitor the compliance of a driver under safety regulations, and two counts of having more than one daily log for any day.
Signs of progress on national flood program for Canada Canadian Underwriter
Canada is making good progress on a national flood program, pending a final decision by federal, provincial and territorial (FPT) ministers responsible for emergency management.
"What they are looking at is one national insurance solution to improve outcomes for high-risk Canadians across the country," Craig Stewart, vice president of federal affairs at Insurance Bureau of Canada (IBC) told Canadian Underwriter in an interview Tuesday. "There may be regional insurance pools adapted to local conditions, but it would be nationally coordinated."
FPT ministers responsible for emergency management have mandated IBC to lead a national working group to take a look at options and what they would look like. IBC provided three options:
A pure market approach (like in Germany and Australia) where governments exit disaster assistance
A broadened version of the status quo, but with better-coordinated insurance and disaster assistance
Deployment of a high-risk pool analogous to Flood Re in the United Kingdom.
The next step is for the working group, which Stewart chairs, to cost out the pool. "The pool needs to be capitalized as it was in Flood Re," Stewart said. "So, we need to figure out where that money is going to come from. Is it going to come from governments? Is it going to come from insurers? Where is it going to come from?"
A final decision will be made by ministers after the high-risk pool is costed, which Stewart expects to be completed by June. Decisions on eligibility, how to capitalize the pool, and on any cross-subsidization await the results of that costing analysis.
In addition, this spring, the ministers will hold a technical summit on flood data and science. "Our view of the risk many not align with the government's view of the risk," Stewart said. "We need to bridge the gap. This symposium is going to focus on essentially the data and science of flood modelling."
In early 2020, there will be the launch of a consumer-facing flood risk portal. IBC has been working with the federal government to develop the authoritative flood portal, where consumers can discover their risks and what to do about them.
"Elevating consumer awareness of flood risk is key," Stewart said. "Consumers aren't going to be incented to protect themselves or to buy insurance unless they know their risk."
In May 2018, FPT ministers responsible for emergency management tasked IBC to lead the development of options to improve financial outcomes of those Canadians at highest risk of flooding. IBC worked with a wide range of insurers, government experts, academics and non-governmental organizations to produce the three options, which were tabled with ministers last week.
The ministers released the first-ever Emergency Management Strategy for Canada: Toward a Resilient 2030 on Jan. 25. The document provides a road map to strengthen Canada's ability to better prevent, prepare for, respond to, and recover from disasters.
"In less than two years, Canadian insurers have secured a mandate with every province and territory to finalize development of a national flood insurance solution, have successfully catalyzed a national approach to flood risk information, have secured over two billion dollars in funding for flood mitigation, and have succeeded in securing a funded commitment for a national flood risk portal," Stewart said.
Insurers disagree over meaning of 'household' in policy language Canadian Underwriter
A dispute over what exactly constitutes a "household" in a home insurance policy has reached the Court of Appeal for Ontario.
Several members of the Weiner family were sued after a person drowned in 2010 in a vacation home on Lake Eugenia, about 70 kilometres west of Barrie.
The homeowner was Enid Weiner, who had moved to a nursing home in 2008 or 2009 and has since passed away.
The home was insured by Intact. Enid Weiner was the only named insured, but the policy provided liability coverage for relatives of the named insured while those relatives were "living in the same household" as the named insured.
Whether this means Intact is also providing liability coverage for Enid Weiner's adult son, Scott Weiner, was a source of disagreement among judges and insurers alike.
Scott Weiner, along with his wife and daughter, were named defendants in the drowning-related lawsuit. Also named was the estate of Enid Weiner. Scott Weiner used his mother's house as a cottage but did not live there permanently.
Scott Weiner's own insurer, TD Insurance, settled the lawsuit. TD Insurance took Intact to court arguing Intact has a duty to defend the lawsuit.
As it stands, TD has lost its case.
"The mere fact of co-residence is not enough to constitute membership in a household," wrote Ontario Court of Appeal Justice Bradley Miller in Ferro v. Weiner, released Jan. 28, 2019.
Initially, Ontario Superior Court of Justice Pamela Hebner ruled in favour of TD. In her ruling, released Apr. 12, 2018, she ordered Intact to pay $62,500, or half the cost of settling the lawsuit.
Justice Hebner found that Scott Weiner was in the same household as his mother. He came to the cottage when he wished and took care of it as if it were his own place.
But Justice Miller of the appellate court countered that, at the time of the accident, Enid was living in a nursing home.
"Scott lived with his family in the city and had organized his life around his urban household. Prior to entering the nursing home, Enid lived with Scott's brother, and not with Scott and his family," added Miller, citing several court rulings, including Wawanesa Mutual Insurance Co. v. Bell, released in 1957 by the Supreme Court of Canada.
Wawanesa v. Bell arose after Murley Miller was killed in 1955 while driving a Vauxhall car owned by his brother, John Milley.  Other victims of that accident sued Miller's estate. Murley lived at John's home in Sarnia.
The court in the 1957 case defined the term "household" in the following way:
"The 'household,' in the broad sense of a family, is a collective group living in a home, acknowledging the authority of a head, the members of which, with few exceptions, are bound by marriage, blood, affinity or other bond, between whom there is an intimacy and by whom there is felt a concern with and an interest in the life of all that gives it a unity."
Members of a household could include domestic servants and distant relatives living there permanently, the court found in 1957.
"Although a household is not synonymous with a family, the existence of a household is evidenced by the extent to which its members share the intimacy, stability, and common purpose characteristic of a functioning family unit," Judge Miller of the Court of Appeal for Ontario wrote in 2019 in Ferro v. Weiner.
Members of a household "typically share a residence and resources, and integrate their actions and choices on an ongoing and open-ended basis," added Miller.