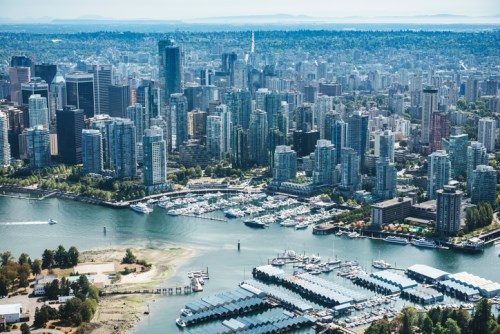 by Zoocasa.com
Home prices and sales across Canada slipped in October, according to data released by the Canadian Real Estate Association (CREA).
Prices softened 1.5 per cent year over year to $496,800. Removing Canada's two most expensive markets, Vancouver and Toronto, takes that national average down to at $383,000 and gives a better reflection of property prices in smaller Canadian markets. An even better measure of national prices is the MLS Home Price Index, which gives a benchmark based on 17 local markets across Canada. This October, the benchmark price was $623,000, up 2.33 per cent from October 2017.
Vancouver Island takes the prize for the Canadian city with the strongest MLS benchmark price growth and is the only area to experience double-digit growth year over year, at 11.85 per cent to $485,300. The next area with the best price growth is Guelph, a small agricultural and university city about an hour and a half outside of Toronto, up 9.33 per cent to $526,300.
On the other end of the scale is Regina, declining 3.6 per cent year over year to a benchmark price of $277,100 and Calgary, slipping 2.61 per cent to $422,000.
Canada's capital was in the middle of the pack with Ottawa real estate increasing 6.58 per cent to a benchmark price of $393,400.
Meanwhile, home sales fell 3.7 per cent year-over-year and 1.6 per cent month to month.
"National sales activity lost momentum in October," said Gregory Klump, CREA's chief economist.
Pointing to local market disparities across the country, he went on to say that sales activity is still strong in Montreal and Ontario's Greater Golden Horseshoe area , which includes many transactions for homes for sale in London, Ontario and Kitchener homes for sale. But this did not offset slowing transactions in more than half of local markets, including in Greater Vancouver and the Fraser Valley.
The Greater Toronto Area, Calgary and Victoria had less newly listed homes in October than in September, but this was evened out by increased inventory in Edmonton and Greater Vancouver.
Consequently, the national market as a whole remains in balanced territory, with the ratio of sales to new listings at 54.2 per cent, close to its long-term average and providing no advantage to either buyer or seller.
Check out the infographic below to see how Canadian cities stack up: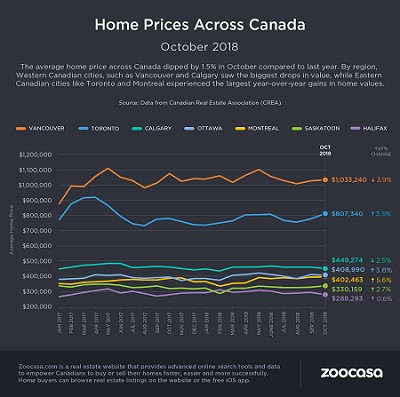 Zoocasa.com is a real estate company that combines online search tools and a full-service brokerage to empower Canadians to buy or sell their homes faster, easier and more successfully. Home buyers can browse homes across Canada on the website or the free iOS app.
Are you looking to invest in property? If you like, we can get one of our mortgage experts to tell you exactly how much you can afford to borrow, which is the best mortgage for you or how much they could save you right now if you have an existing mortgage. Click here to get help choosing the best mortgage rate