Nissan Chairman Carlos Ghosn Fired Following Arrest
[ad_1]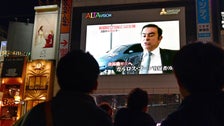 TOKYO (AP) — Nissan Motor Co. fired Carlos Ghosn as chairman Thursday, curtailing the powerful executive's nearly two-decade-long reign at the Japanese automaker after his arrest for alleged financial improprieties.
In an hours-long meeting, the company's board of directors voted unanimously to dismiss Ghosn as chairman and as a representative director, Nissan said in a statement. It said its own internal investigation, prompted by a whistleblower, found serious misconduct including under-reporting of his income and misuse of company assets.
It was a stunning downfall for one of the biggest figures in the auto industry, a man who helped drive turnarounds at both France's Renault SA and at Nissan and then managed an alliance between them that sold 10.6 million cars last year, besting its rivals.
Nissan said in a statement filed to the Tokyo Stock Exchange that its investigation uncovered misuse of company investment funds and expense money for personal gain.
Earlier this week, Renault voted to keep Ghosn as its chief executive but appointed Thierry Bollore, its chief operating officer, as its interim chief.
Another Nissan executive, Greg Kelly, was arrested in Japan on suspicion of collaborating in the wrongdoing and also will be dismissed as a representative director, Nissan said. Their replacements will be decided later, it said.
Ghosn, 64, is suspected of under-reporting $44.6 million in income from 2011 to 2015, according to Tokyo prosecutors.
Nissan's board consists of nine members, including Ghosn and Greg Kelly. The seven other board members voted at the meeting, including two members from Nissan and two from Renault.
Ghosn and Kelly will remain on Nissan's board for now as that decision will be up to shareholders. No date has been set yet for a shareholders meeting.
Ghosn is also chairman at Mitsubishi Motors Corp., a smaller Japanese automaker that's partnering with the Renault-Nissan alliance and plans to hold a board meeting next week.
Ghosn has been held since his arrest Monday at a Tokyo detention center, under the same Spartan conditions as other detainees, Tokyo deputy prosecutor Shin Kukimoto told reporters Thursday. He gave few details about the case.
Under Japanese law, suspects can be held for 20 days per possible charge without an official indictment. Additional charges can be tagged on, resulting in longer detentions. Neither has been charged so far.
The maximum penalty upon conviction for violating finance and exchange laws is 10 years in prison, a 10 million yen ($89,000) fine, or both.
A French citizen born in Brazil, Ghosn became something of a corporate superstar in Japan as he led Nissan's revival from near bankruptcy after Renault sent him to help in 1999.
Ghosn served as Nissan's chief executive from 2001 until last year. He became chief executive of Renault in 2005, leading the two automakers simultaneously. In 2016, he also became chairman of Mitsubishi Motors Corp. after Nissan took it into the alliance.
Kelly, 62, joined Nissan, maker of the Leaf electric car and Infiniti luxury models, in the U.S. in 1988. He became a board member in 2012. His background is in human resources and alliance management.
Analysts say the future of Nissan's alliance with Renault may be at stake, though Nissan's statement Thursday said the company's leadership was determined to minimize the impact from Ghosn's case on the partnership. Renault owns 43 percent of Nissan, and Nissan owns 15 percent of Renault.
"The longstanding alliance partnership with Renault remains unchanged," the Nissan statement in English said, stressing the alliance rather than the misdeeds.
It also said the board will study setting up a third-party committee to beef up governance in management and compensation at Nissan.
CEO Hiroto Saikawa, in a lengthy news conference on Monday, said too much power had been concentrated in Ghosn, with too little credit given to the many others working for the company's success.
Janet Lewis, managing director and head of industrial research, Asia, at Macquarie Capital Securities in Tokyo, said in an interview that an adjustment was needed to give Nissan more say in the alliance with Renault.
The partnership remains crucial for both companies, she said, since apart from financial ties the companies share technology and parts.
The automakers need to be more like roommates than a married couple, "So they have to find a way to share their house and share all of their expertise because it's very necessary in terms of new automotive technology, new platform development," Lewis said.
"They need to figure out how they can continue this and still live happily together in the same house."
[ad_2]

Source link
11-Step Guide to Buying A House
Purchasing a home is likely going to be one of the largest purchases you will make in your lifetime, which is why it is so important to follow the right steps when starting on your home-buying journey to ensure that the entire process goes smoothly from start to finish!
We've put together a step-by-step guide to buying a home, to help you get off on the right foot when it comes to buying a home. Click the download button below to download these steps in PDF form.
1. Decide to buy a home
Make sure you are ready both financially and emotionally!
2. Get Pre-Approved
Work with a mortgage broker or your bank. They will work with you on what you require to submit an application. Once approved, this will determine how much you can afford to spend on a home.
3. REALTOR® Consultation
Work with a RE/MAX agent to help guide you through the process. The right agent will discuss your price range, ideal locations, current market conditions and much more!
4. Start Your Search
Your REALTOR® will get you information on new homes that meet your criteria as soon as they're listed. They'll work with you and for you to ensure you find your dream home.
5. Current Market Conditions
Your experienced RE/MAX agent is a valuable resource as you consider different properties. They will be there when you have questions regarding the homes you're interested in – they can tell you what is a good deal, and when to walk away.
6. Make an Offer
Your REALTOR® will help create your offer tailored to your needs including the right subject clauses down to the closing date that works best for you.
7. Negotiate
You may receive a counter offer but don't be worried! RE/MAX agents will negotiate for you to ensure you get the best possible price for the house you love!
8. Accepted Offer
It's crunch time! The next few weeks are busy as you need to schedule and remove every one of your subject clauses by the specified date. You'll likely need to schedule an inspection, appraisal, financing approval, and several others. You will also need to provide a deposit to put down on the home. The deposit will be a pre-determined amount given in-trust to your REALTOR® to show the sellers you are committed to this home. Don't worry, that money goes towards the purchase of said home if all goes well! This is a busy time but be sure to reach out to your RE/MAX agent if you have any questions or are unsure about next steps.
9. Subject Removal
Once you have completed all your subject clauses, and everything went smooth, it is time for you to sign on the dotted line and consider your new home to be yours (almost!).
10. Official Documents
You will need to provide your RE/MAX agent with your preferred lawyer or notary to have the official title transferred into your name. You will meet with the lawyer or notary in person to sign all the legal documents before you move in. This typically happens a few days before you take possession of your new home.
11. Move In!
Congratulations, you are officially a homeowner! The date pre-determined by you is your move-in day! You can now move into your new home. Your RE/MAX agent will be there ready and waiting to hand you the keys. Enjoy!
Know When to Rent 'Em, Know When to Buy 'Em
We're told it's always better to buy than rent. Everyone—from our parents to the banks to the government—encourages us to buy, buy, buy our homes.
But times have changed, and I dare say that these authority figures might be slightly out of touch. The jaw-droppingly high cost of real estate in big cities is encouraging millennials to rent instead of own, causing homeownership rates to drop. At 30 years old, 50.2% of millennials own homes versus 55% of baby boomers at the same age. As a millennial homeowner, I can't help but wonder if I'm generationally displaced.
There's an old misconception out there about renting that needs to be addressed. You're not "throwing away your money" if you're renting. While that familiar axiom might be true sometimes, there are plenty of circumstances in which it does actually make more sense to rent than buy.
You Might Choose to Rent If…
…You Invest What You Save
Renting tends to come with lower carrying costs than owning. Typically, all you'll have to worry about paying as a renter is, well, the rent (clearly) and perhaps a share of utilities. This leaves you with extra monthly cash to invest, which can ultimately put you on even financial footing or better with a homeowner.
As always, there's a familiar caveat here: You need to be financially disciplined for this strategy to pay off. One mistake I see a lot is that those who rent tend to fall prey to something called 'lifestyle inflation.' Rather than investing what they save as renters, they just rent nicer apartments, eat at fancier restaurants, and put more money into their wardrobe than their RRSP. But this money vacuum can be easily avoided by:
1. Budgeting to find out how much you have left over to invest each month after factoring out all your expenses, then;
2. Funneling that leftover money directly into your investments. Some robo-advisors, like Wealthsimple, allow you to do this automatically via pre-authorized contributions, which set recurring transfers from your chequing account into your investment portfolio, at whatever amount and interval you choose.
…You Have Rent Control, aka the Urban Holy Grail
Depending on where you live, you might be lucky enough to benefit from the urban miracle known as rent control. That means your landlord can only increase your rent by the rate of inflation, which in turn keeps your cost of living way down and leaves you with more money to invest. In Canada, rent control is now implemented in most big cities like Toronto and Vancouver (although not in Montreal).
…You Have a Mobile Lifestyle
Renting makes it easier to move; if you'd like to relocate it's usually as simple as giving your landlord 60 days written notice. But when you own a home you're more tied down, and the obligation to be near your property may prevent you from chasing new adventures in faraway lands. I once turned down a fantastic job opportunity in Dallas, Texas for this very reason.
…You're on a Tight Budget
Renting tends to be more affordable than buying in big cities like Toronto and Vancouver. I know, I know, renting is still unreasonably pricey in certain neighborhoods. But buying in those same areas can be arm-and-a-leg expensive.
When you rent, all you have to come up with is the first and last month's rent; no need to scrimp and save to pull together a massive down payment on a house, which, incidentally, will take you two to four times longer to save than it did your parents.
And homeownership leads to a lot of other costs aside from mortgage payments. When you buy real estate, you'll need to pay closing costs, which typically add up to between 1.5%–4% of the property's purchase price and can include a home inspection fee, real estate lawyer fee, land transfer taxes, and homeowners insurance (sometimes you'll have to fork over an entire year's worth of home insurance as one lump sum).
There's also the elephant in the room that nobody likes to speak about: repairs and maintenance. Homeowners are responsible for paying the big bucks for costly home repairs, such as a new roof and furnace, and are advised to set aside 3–5% of a home's value toward home repairs and maintenance each year. Renters, on the other hand, can just call their landlord whenever they need repairs (provided the landlord actually picks up). Still, it's important that tenants know their rights when renting to be aware of which fees do and don't fall under their responsibility.
A Montreal Real Estate Broker Answered 5 Qs About Buying A Property To Rent Out
You've probably heard that Montreal's real estate market is on fire. But how can you get in on the action? According to Alex Marshall, a local real estate broker, buying a property as an investment for the purpose of renting it out is a great way to go about it.
Marshall, who's part of the Keller Williams Prestige team, sat down with us to explain why and how to purchase an investment property. These types of properties are also known as revenue properties.
Why do you recommend buying a revenue property?
Marshall used personal experience to highlight the advantages of owning a revenue property. He's currently renting out the Saint-Henri loft he bought in 2010.
"Not only is my tenant paying off my mortgage, but I'm making a couple 100 bucks a month as well," Marshall said.
Marshall was also able to take out a line of credit on the property, he said, and use the equity to buy an additional property.
"You actually don't need to live in the property that you buy. I'm seeing clients who are in apartments with low rent [who] don't want to move but have got the money right now … and are looking for smart ways to invest," he said.
What are some tips to help people save up for a revenue property?
When Marshall was saving up to buy his first property, he said he worked a second job.
"There's a lot of value to having that side hustle … even if it's at Subway or it's at a landscaping company on Saturdays. It will add up significantly in the long run," he said.
He gave the example of adding $5,000 to your annual income.
Marshall said you can qualify to borrow roughly four times your annual salary for a mortgage so $5,000 could actually provide you with an extra $20,000 of buying power.
"That might get you a second bedroom, that might get you a parking spot, that might get you a larger space," he said.
The pandemic, Marshall said, has also helped some of his clients save extra funds.
"You can't travel, you can't go to the restaurant, you can't go to the theatre, you can't go to the bar. So a lot of people right now are finding themselves with almost a disposable income," he said.
Marshall also recommends looking into Canada's Home Buyers' Plan program, which allows you to withdraw up to $35,000 — — tax-free — from your registered retirement savings plan (RRSP) to put toward buying or building a qualifying home.